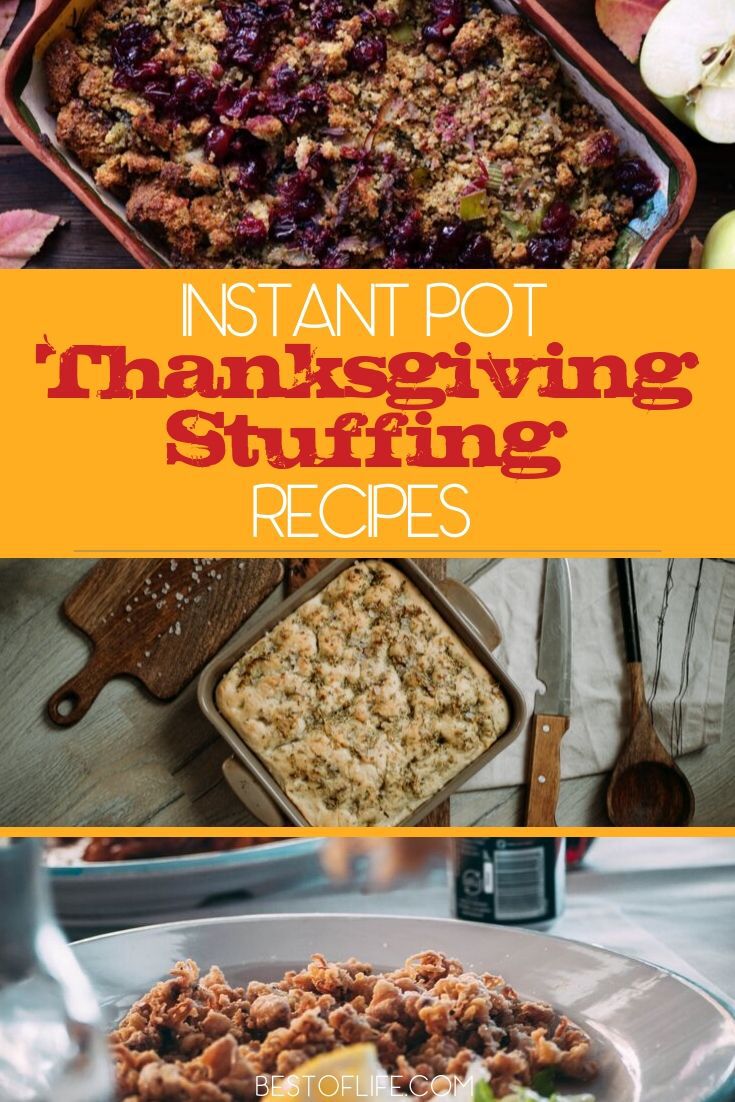 Thanksgiving isn't easy to pull off; just ask the person who usually does the cooking. But throughout the years we have come up with new recipes and cooking methods to help us pull off the best Thanksgiving dinner. The Instant Pot is one such method. The Instant Pot may not have been made for Thanksgiving but it is a big help. You could use the Instant Pot to help make dish after dish while the turkey cooks. Stuffing, for example, is a great dish to make in an Instant Pot. These Instant Pot Thanksgiving stuffing recipes will help you get started.
Thanksgiving dinner may not be easy to perfect but the best Instant Pot Thanksgiving stuffing recipes could help you get as close as possible.
What is your cooking routine for Thanksgiving? Many of us start by making some finger foods, side dishes and then put the turkey in the oven.
After that, we get started on the more complicated things. One of those complicated things could be stuffing. Stuffing comes in many different recipes.
In fact, some families have stuffing recipes that are passed down from generation to generation. Martha from the bake sale is always after that secret recipe and will do everything in her power to get it.
But others like to try new things from time to time. Instant Pot Thanksgiving stuffing recipes could help with that. These recipes are not only easy, but they are also fast.
You could have an amazing stuffing that tastes like it took hours to make in mere minutes. The best part is, it gives you a chance to try something new and possibly start a new family tradition.
No one has to know that you got the recipe off the internet.
Thanksgiving Dressing | Make Your Meals
Cornbread Stuffing | Simply Happy Foodie
Craisin Stuffing | Awe Filled Homemaker
Sausage Stuffing Tater | Tots and Jello
Easy Stuffing | This Old Gal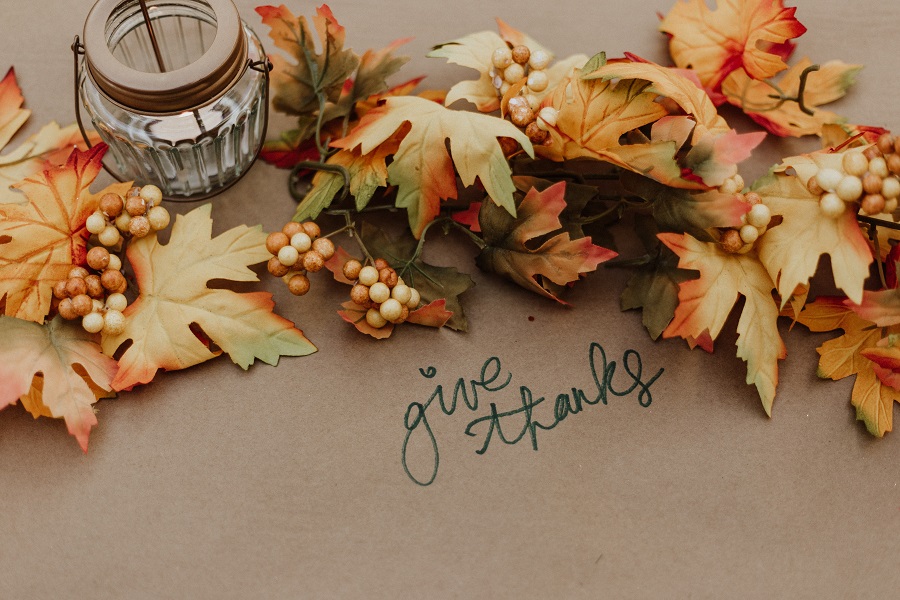 Stuffing is not an easy dish to pull off. Especially if you run out of time with everything else. That is why these recipes can become the saving dish of your Thanksgiving meal. You can make these without having to put too much time into the recipe.
Southern Stuffing | Sweet Pea's Kitchen
Brown Rice Stuffing | Confessions of a Fit Foodie
Gluten-Free Stuffing | Clean Eating Kitchen
Wild Rice Dressing | Or Whatever You Do
Cornbread Dressing | The Foodie Eats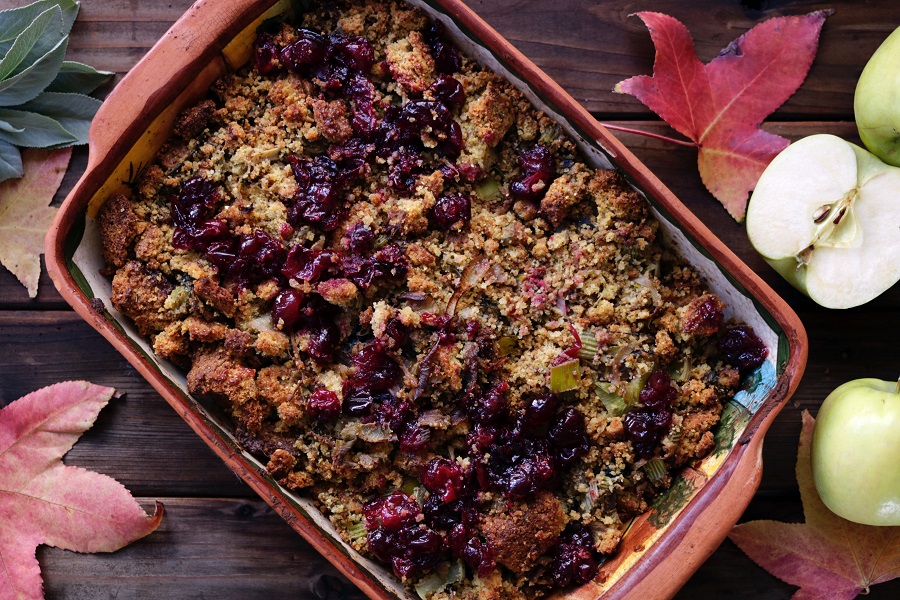 An Instant Pot works similarly to a crockpot. Mix all of the ingredients and let it cook. But some of these recipes will require a bit more prep work. Those recipes taste the best and may take a little more time. But the fact that the Instant Pot is cooking while you do other things makes up for the prep time.
Cauliflower Stuffing | My Crazy Good Life
Traditional Stuffing | All Recipes
Turkey Broth Stuffing | Simply Happy Foodie
Basic Stuffing | Pressure Cooking Today
Sausage and Sage Stuffing | Recipes.Instant Pot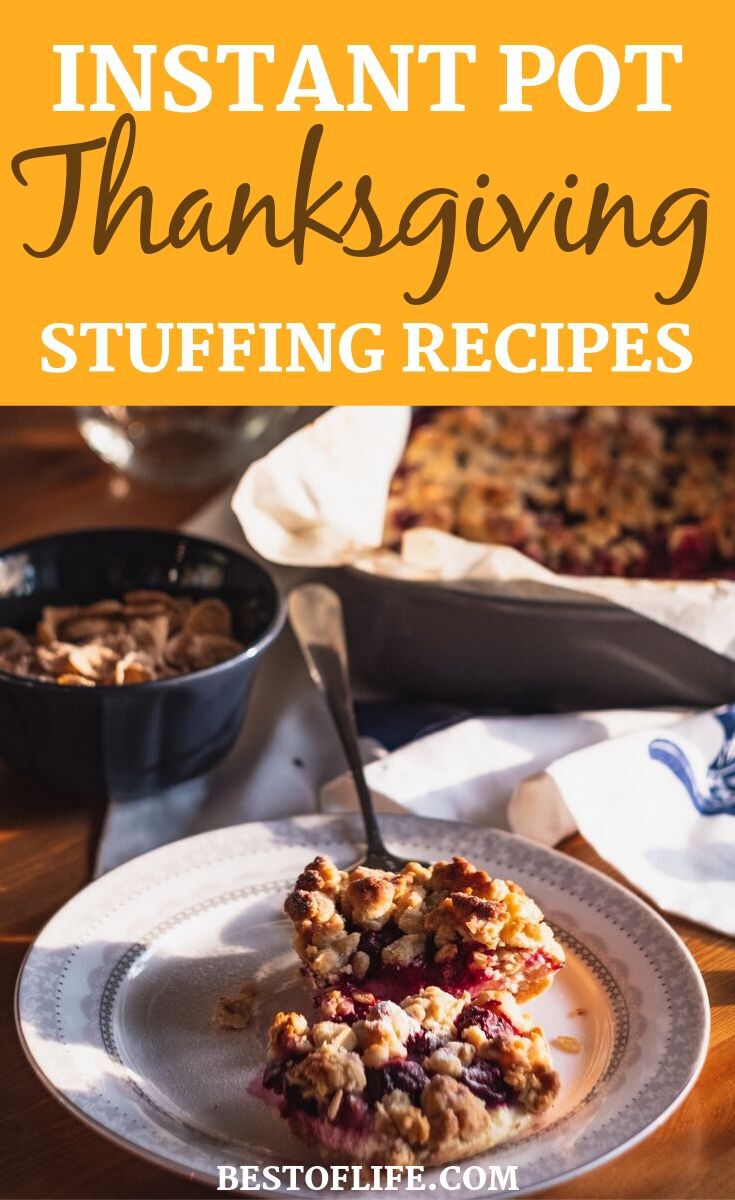 More Instant Pot Recipes
Instant Pot Spaghetti Recipes that Anyone Can Make
Instant Pot Taco Tuesday Recipes for a Fiesta
45 Instant Pot Crack Chicken Recipes
Beanless Instant Pot Chili Recipe