Holiday Party Food Appetizers for any Size Gathering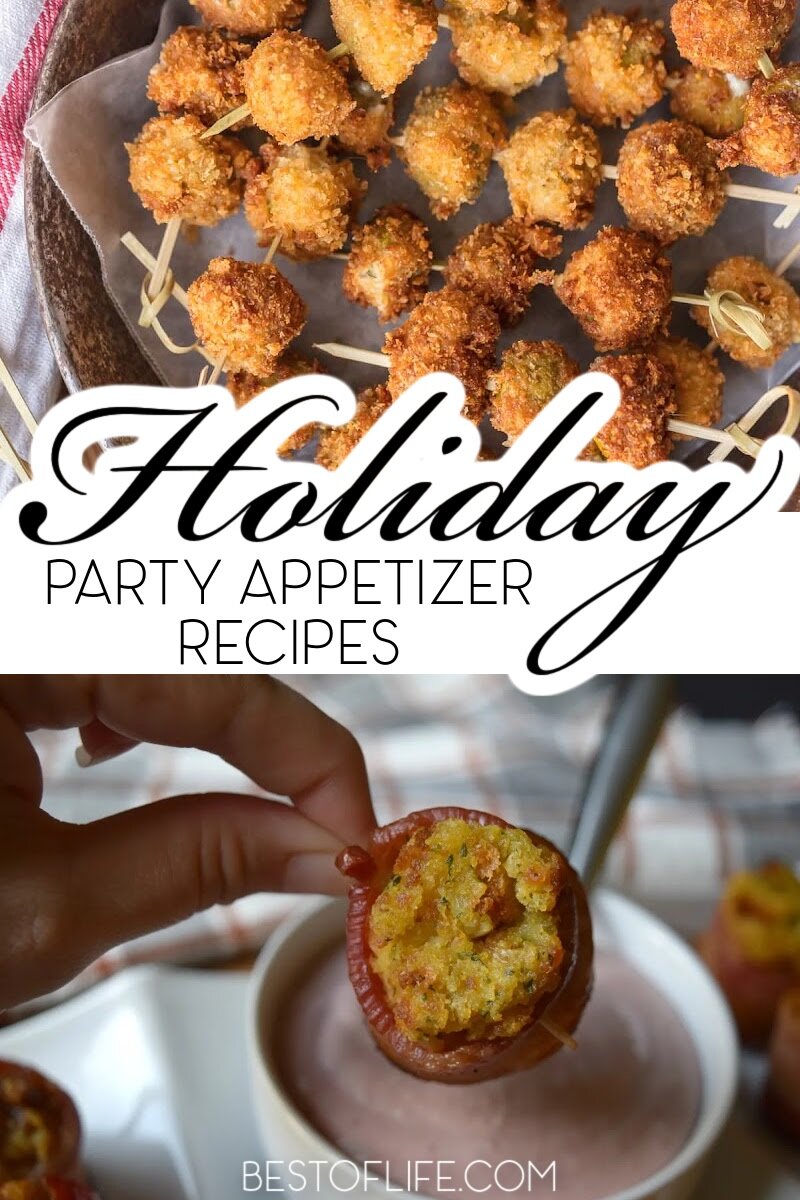 You could ask everyone to bring a dish and be done with it. However, there are other hosts who prefer to provide most of the meals for their guests, and this requires some effort. To really celebrate, you will need some holiday party food appetizers to get started.
Throwing a holiday party means you need to have the best recipes to present to your guests. As the host, you have options. Holiday party food usually requires an entree, snack foods, desserts, and of course, holiday appetizers to get the party started.
What would you consider to be holiday party food? Many minds automatically go to extravagant dishes like turkey and ham, cranberry sauces, and cakes. But holiday party food is like any other party, meaning finger foods work best.
Unless, of course, you're throwing a dinner party, in which case you will need appetizer plates and maybe some champagne flutes. Either way, you want to be known as the person who throws the best holiday parties ever, and that requires one thing and one thing only, the best holiday foods.
The only difference between these specific appetizers and any other appetizers is that they will have a holiday twist to them, think those same extravagant holiday meals but in a finger food size.
"Best Of" Holiday Appetizer Recipes
Easy Crostini Bruschetta Appetizer Recipe
Easy Little Smokies Party Recipe
Crockpot Black Bean Dip Recipe
Bacon Fig & Jalapeno Goat Cheese Pastry Cups
Macaroni And Cheese Snacks With Bell Peppers
Hot Italian Cheese Balls Recipe
Low Carb Buffalo Cauliflower Bites Recipe
Black Bean Salsa With Avocado Recipe
Easy Crockpot Italian Meatballs Recipe
Holiday Party Food Appetizers
The first step you need to complete when hosting a party is to plan the menu. You don't need to host the party like a dinner party, but options are always a good idea. The goal is to have a cohesive offering of food instead of just a bunch of random things out on the table.
For example, serving nothing but finger foods? Try to find some holiday party appetizer recipes that don't duplicate flavors. The last thing you want to do is have 3 different types of meatballs on the table.
So mix things up and make things exciting for your guests.
Caprese Christmas Salad | Cafe Delites
Spinach and Artichoke Dip Stuffed Garlic Bread | Host the Toast
Crock-Pot Cranberry Orange Meatballs | Meatloaf and Melodrama
Brie, Apple, and Honey Crostini | Two Peas & Their Pod
Puff Pastry Ham and Cheese Pinwheels | Well Plated
Color Scheme
Hosting a holiday party is a bit easier than most other parties because the theme is built right into the celebration. Pull colors from the season to decorate your party, tables, and even the outdoors if you need them. The holidays utilize greens, reds, whites, golds, and blacks.
You can use those colors, every shade of them, to decorate your home for the party. Then, use accent colors like blues and yellows to fill things out. It is that simple.
Monte Cristo Pinwheels | Kitchen Concoctions
Pine Cone Cheese Ball with Almonds | Living Locurto
Bacon Wrapped Stuffing Bites | Who Needs a Cape
Cranberry, Pecan, Goat Cheese, Sweet Potato Bites | Recipe Runner
The Drinks
Food is important for any type of party. Holiday party food is just food that has been themed for the holidays, or that uses seasonal ingredients. But what about the drinks? The drinks should pair well with what you're serving to your guests.
Luckily, since we are sticking to holiday themes, we can do the same for the drinks. Use things like cranberries, chocolates, and peppermints to make your drinks for both adults and children.
Baked Gouda in Puff Pastry | Savory Simple
Sweet Pepper Poppers | Finding Zest
Crab Stuffed Mushrooms with Cream Cheese | Savory Tooth
Maple Pear Crostini | Foodal
Ricotta Whipped Feta | Amanda's Cookin'
Holiday Party Food and Atmosphere
Holiday party food will help you create an ambiance in your space. The smells of the food, and the colors in the rooms are things that will help create an ambiance. But you can amplify that ambiance with the help of sounds and lights.
For example, don't be afraid to toss some logs in the fireplace and light them up. You can also play holiday music throughout your home to set the mood. We are celebrating life, love, togetherness, and so much more. That means these parties deserve to be given the utmost care.
Chicken Parmesan Meatballs | Smart Savvy Living
Sausage Stuffed Mushrooms | The Recipe Critic
Fried Blue Cheese Stuffed Olives | The Cookie Rookie
Antipasto Skewers | Baker by Nature
Candied Pecans | Dinner at the Zoo
More Holiday Recipes
Holiday Party Food Desserts for Kids | Holiday party food is not just about appetizers. There needs to be a level of sweetness to the options, especially if it is a holiday party.
50+ Holiday Cookie Recipes | Cookies are a good choice. We all know that cookies and Christmas go hand in hand.
How to Cook a Ham Like a Pro | Turkeys have come and gone, and now, we have moved on to something a little juicier, ham!
Green Bean Casserole Recipes to Entertain with | Holiday parties around the country are serving up one of the most popular holiday dishes, green bean casserole.
25 Vegetable Platter Ideas for Parties and Happy Hour | We also must ensure we have veggie options for those in attendance who might prefer to stay away from meat.