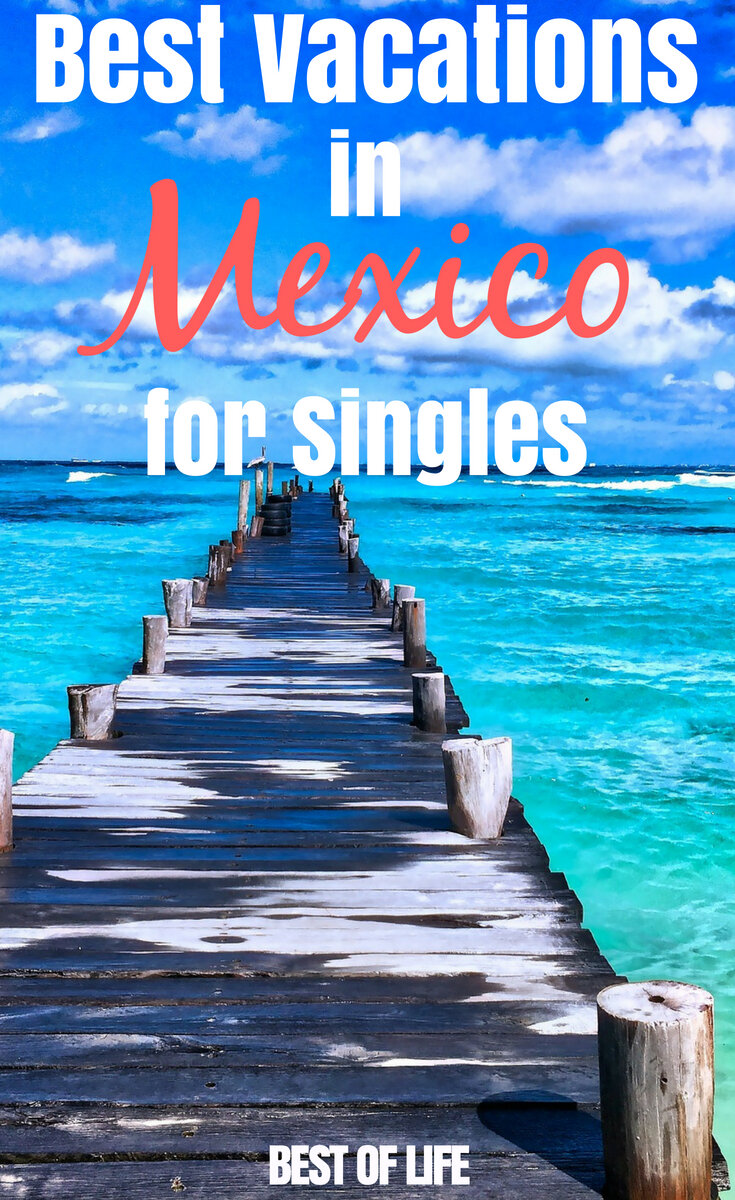 Traveling alone may not be the thing people look forward to or even want to do but after you do it once it can become addicting. When you travel alone, you have a different sense of freedom, you get to choose everything you do, you can make new friends or even meet someone special. One popular singles destination is Mexico and the best places to vacation in Mexico for singles show you why it's so popular.
Make plans to visit the best places to vacation in Mexico for singles and learn something new about you, the world, and the way you look at life.
Mexico, like many other countries in the world, offers a wide array of things to do and everyone can find something to do there. There are places you can go that offer relaxation and quiet and there are places that offer a louder, more party-centric vacation.
No matter which you prefer, even if you want something in between, the best places to vacation in Mexico for singles have it all. Pack your sunscreen, a good book (or several), along with a chic cover-up, and get ready to have a blast in Mexico.
Best Places to Vacation in Mexico for Singles | Riviera Nayarit
Welcome to the smaller towns just north of Puerto Vallarta. Puerto Vallarta is a common party vacation spot but head north and things begin to calm down a bit. There are a few different towns in this area but they all share one thing, a 200-mile stretch of amazing coastline.
When you've found a town you like, take a bike ride around town or head to the beach to surf or just relax on the sand. There are also other activities like golfing, shopping, spas and so much more. The best part is, the close proximity to Puerto Vallarta means you can enjoy parties as well if you want to of course.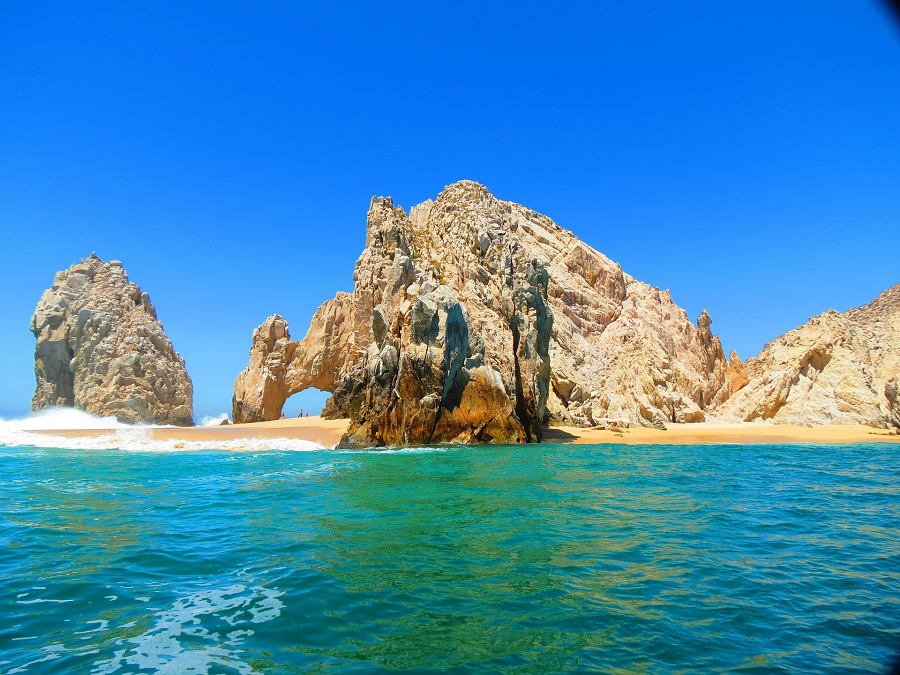 Best Places to Vacation in Mexico for Singles | Playa del Carmen
If quiet seclusion is what you're really after, Playa del Carmen is the place to be. Here, you'll find amazing beaches but fewer crowds.
There is a beach resort nearby and you can stay there and enjoy all of the activities they have to offer. If you don't want to go snorkeling or listen to live music in the evening you can just relax on the beach or at a spa.
There are even open-air terraces at some of the resorts that give you access to hammocks or your own personal plunge pool. If you start to feel the itch to party a bit, Boil's Bar has pool tables, ping-pong tables, and there are other fun activities you can take part in. Who knows, you may even meet new friends here.
Best Places to Vacation in Mexico for Singles | Juluchuca
One of the benefits of traveling alone is that you will begin to open yourself up to others who are also traveling alone. There is no better place to open up to others than at the community dining tables at Playa Viva in Juluchuca.
All meals are eaten family-style and guests are encouraged to interact with each other during their stay. The best part is, the entire resort is in the trees. The rooms you rent are tree houses and they offer a whole new level of solitude to their guests.
Even though meal times are more social, your time is your time and you can meditate, do yoga, or even get a massage.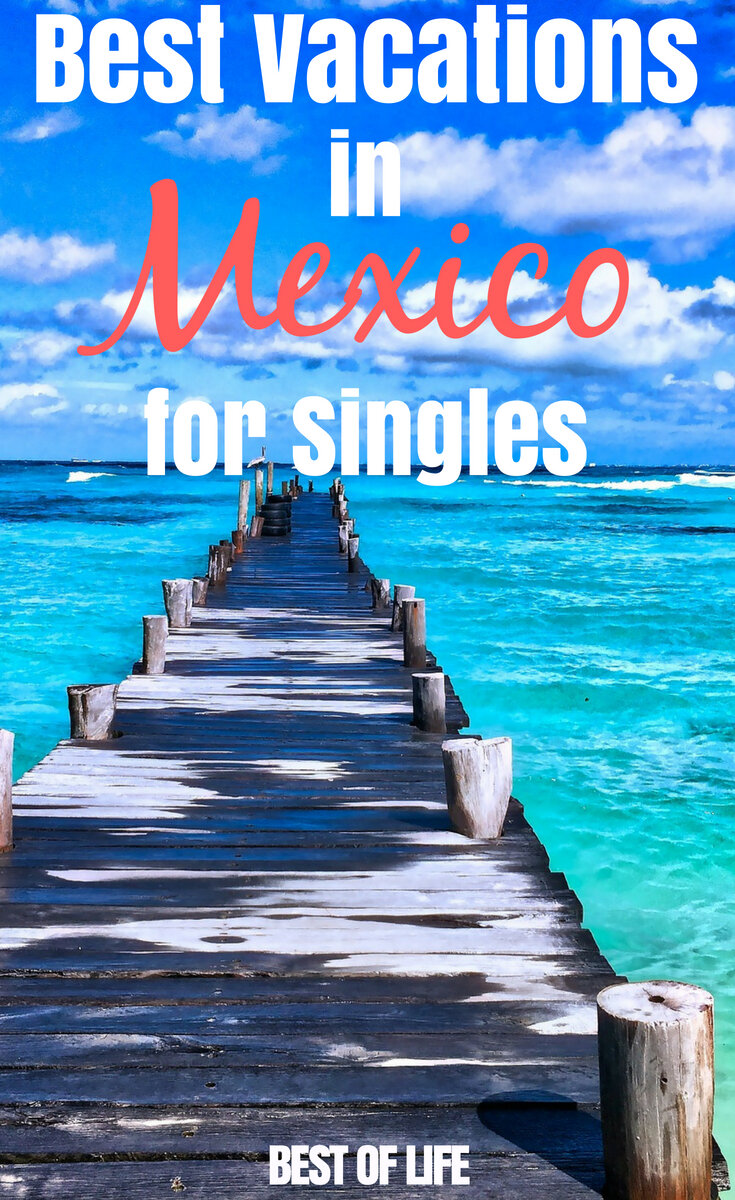 Best Places to Vacation in Mexico for Singles | Isla Mujeres
Just because you're single doesn't mean you wouldn't enjoy the same resorts that other travelers enjoy. Isla Mujeres is a place where people get all of the amazing amenities of a luxury resort but at a cheaper price.
Take a kayak out on the water or swim in one of the many pools. When you get tired of the water, head to dry land for amazing seafood or a night of dancing that you won't soon forget. There are stores, restaurants, bars, beaches, and so much more for everyone to enjoy.
Feel free to let loose and have a little fun on your vacation in Isla Mujeres.
Best Places to Vacation in Mexico for Singles | Tulum
One thing people worry about when it comes to traveling to Mexico alone (or even with a group of friends) is safety. Tulum is one of the few places where your safety is taken seriously and you can truly relax.
In fact, Tulum is filled with yoga places, cafes, beach bars and even ranks high on the safest places to visit in Mexico list. Not only is Tukum safe, but it is one of the most popular places to be photographed and featured on social media thanks to the pristine beaches and underground swimming holes.
If your goal is to show off just how amazingly relaxing and beautiful your vacation is, Tulum is where you want to go.