Frozen Cocktails That Aren't Margaritas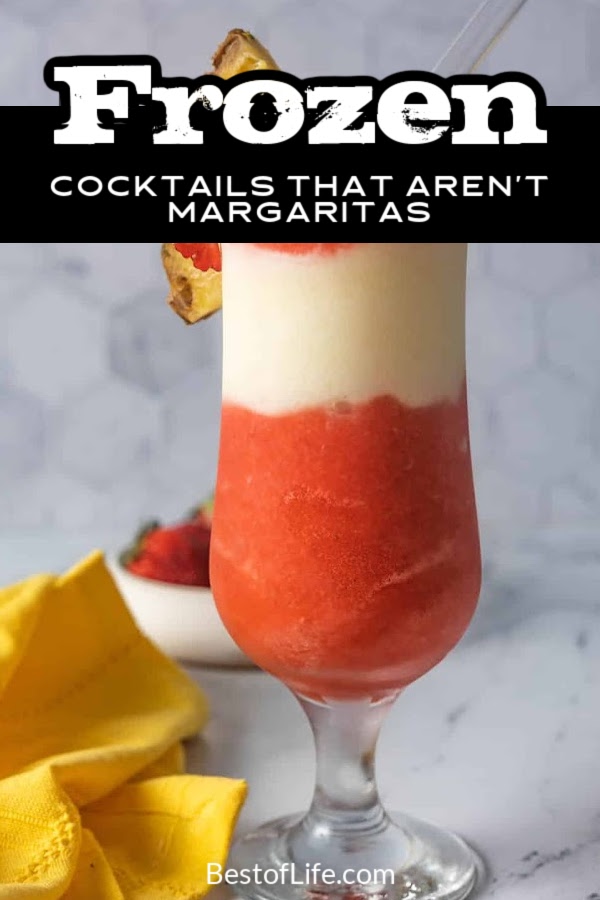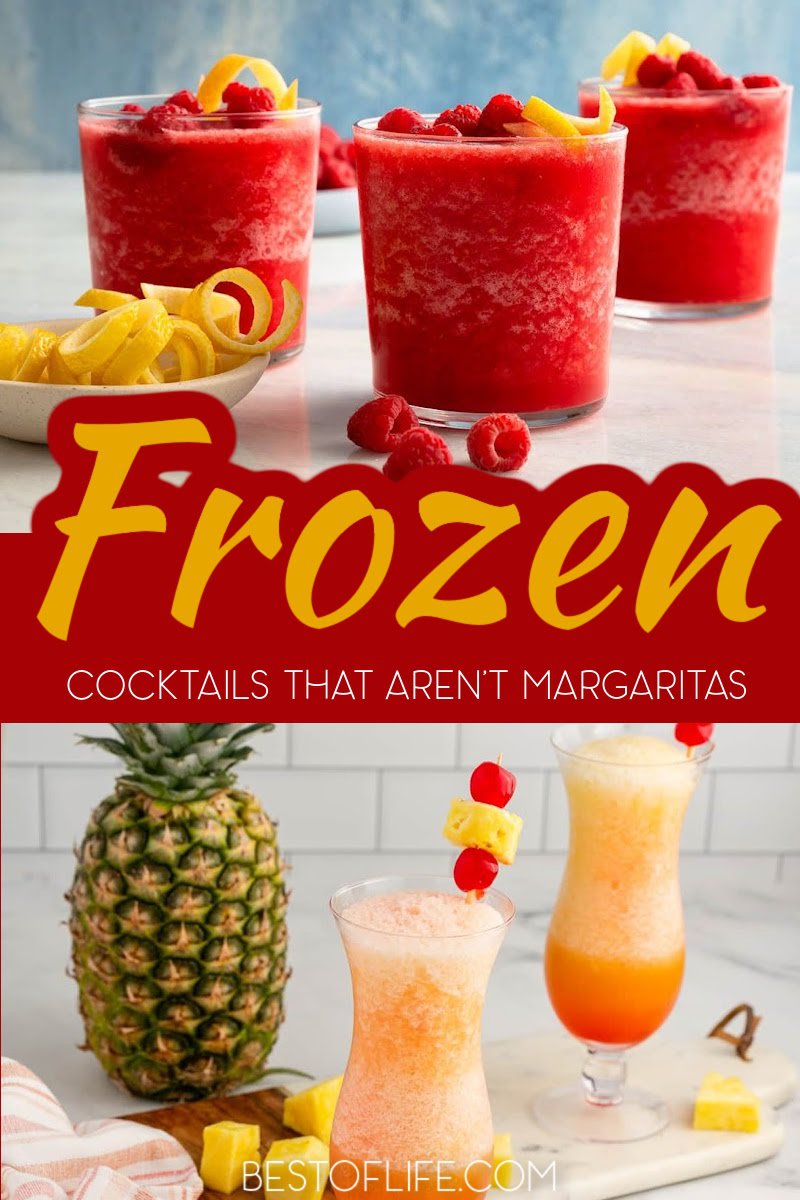 The slushie margarita, or frozen margarita is definitely a summer favorite. However, you don't have to have a margarita to enjoy a freezing cold drink on a hot summer day. In fact, there are plenty of frozen cocktails that aren't margaritas you can enjoy!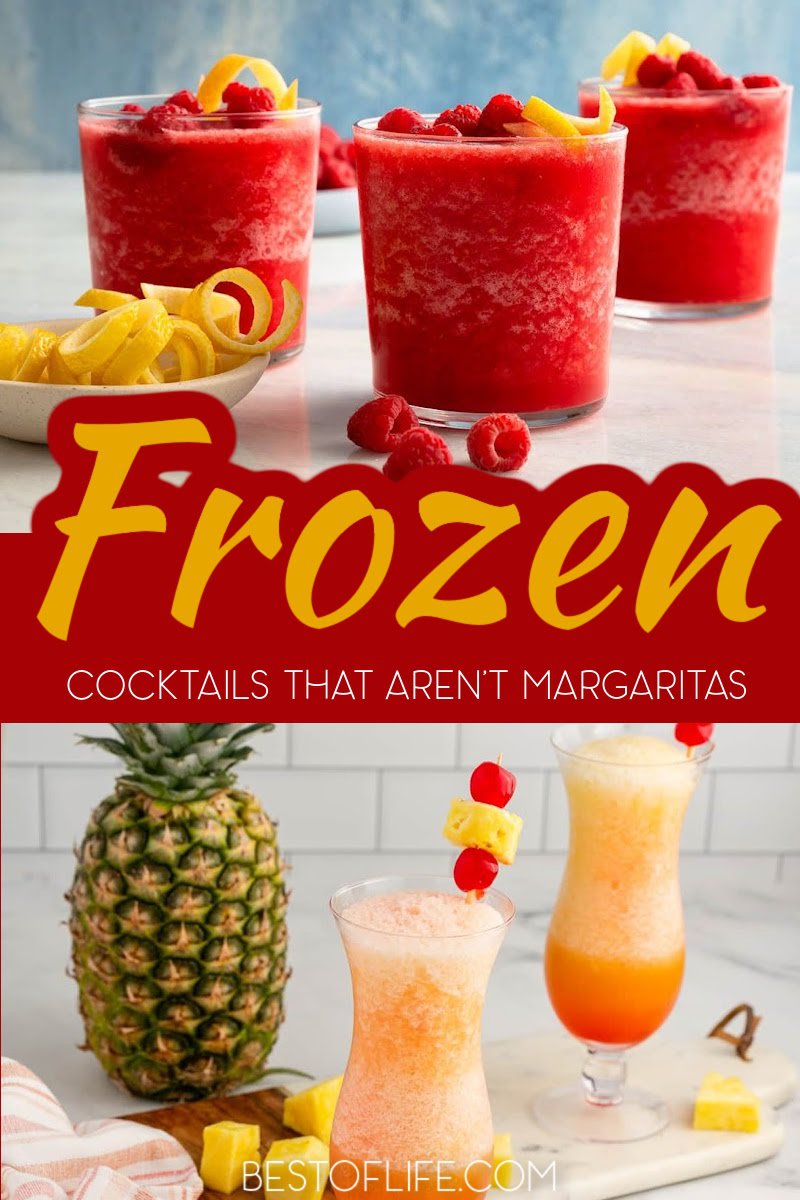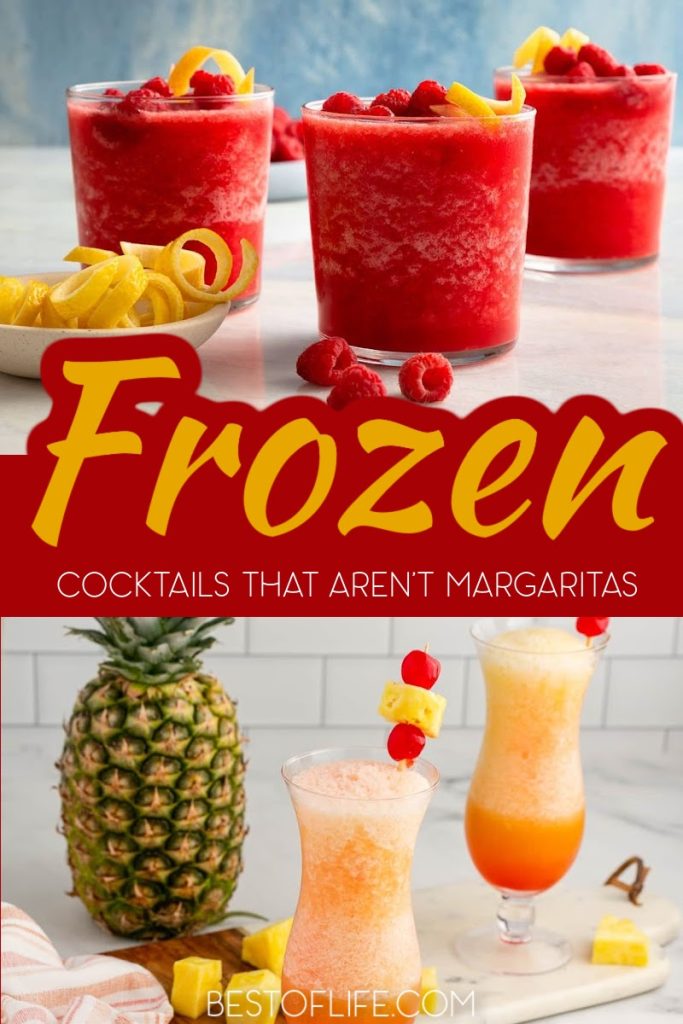 Frozen cocktails don't always have to be margaritas; you can enjoy a variety of frozen drinks for summer parties or as pool party recipes. The margarita is a classic drink that is filled with flavor and can be made in different ways.
One way to enjoy a margarita is on the rocks; on the rocks just means that it has ice cubes. Another way to enjoy a margarita is frozen. No, you won't be enjoying your cocktail like a popsicle. A frozen margarita is usually like a slushie from 7Eleven.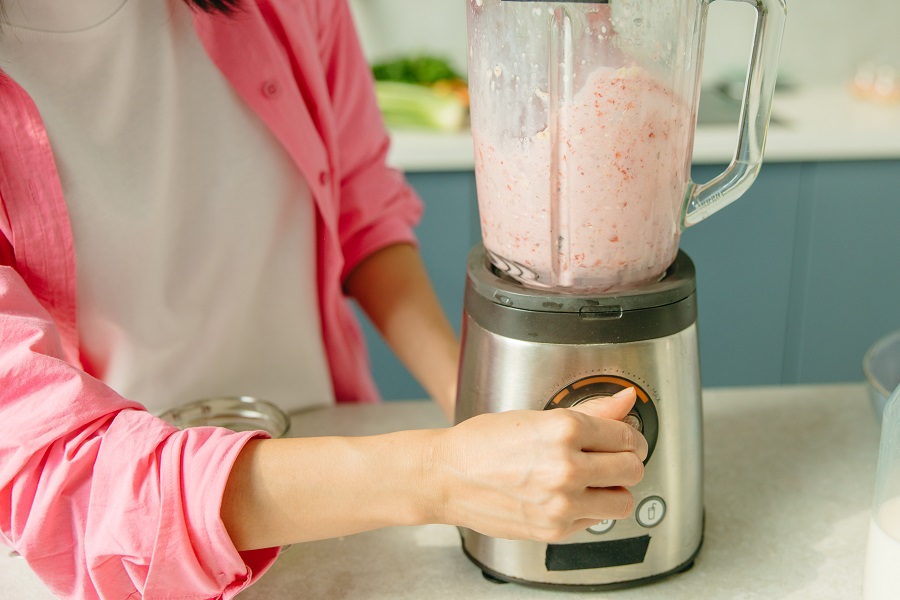 Some places may just use very small pebble ice instead of grinding the ice down to make a slushie. Either way, the frozen margarita is the perfect cocktail to drink on a hot summer day. But not everyone is a fan of tequila, and some people actually say they don't like margaritas.
Those people can still enjoy a frozen cocktail; just change the recipe a bit. In fact, there are plenty of frozen cocktails you can enjoy all summer long. Of course, your taste is going to matter, and let's not forget about the type of alcohol.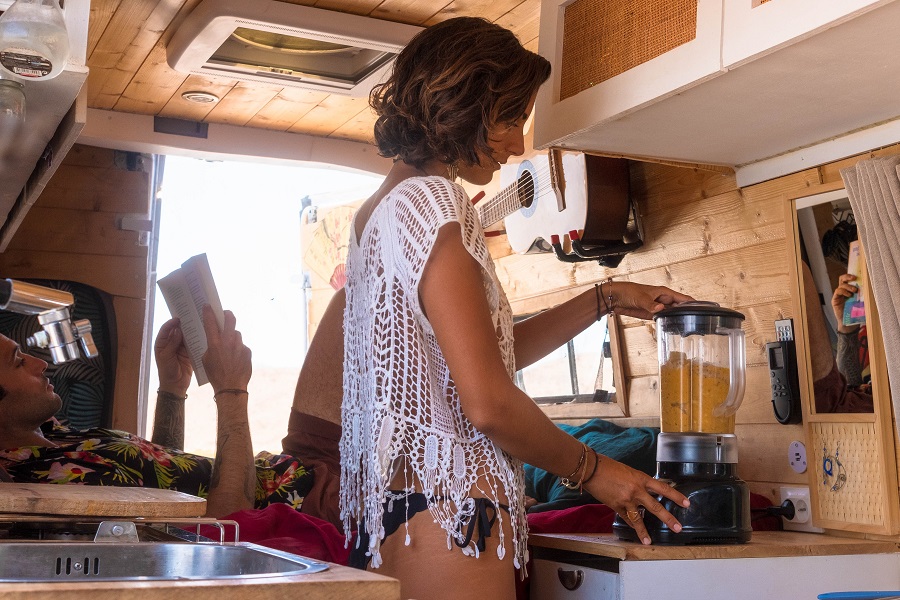 You will surely find vodka recipes or tequila recipes, maybe even some rum recipes. But one alcohol that might be a bit difficult to incorporate into a frozen cocktail would be whiskey. Whiskey can easily be turned into a frozen cocktail; that's not the problem.
But whiskey fans usually prefer their drinks to be far less watered down and a lot more straight. However, there are still some recipes you can try if you want to go out into the world and say you're a fan of whiskey; it just needs to be in a frozen cocktail.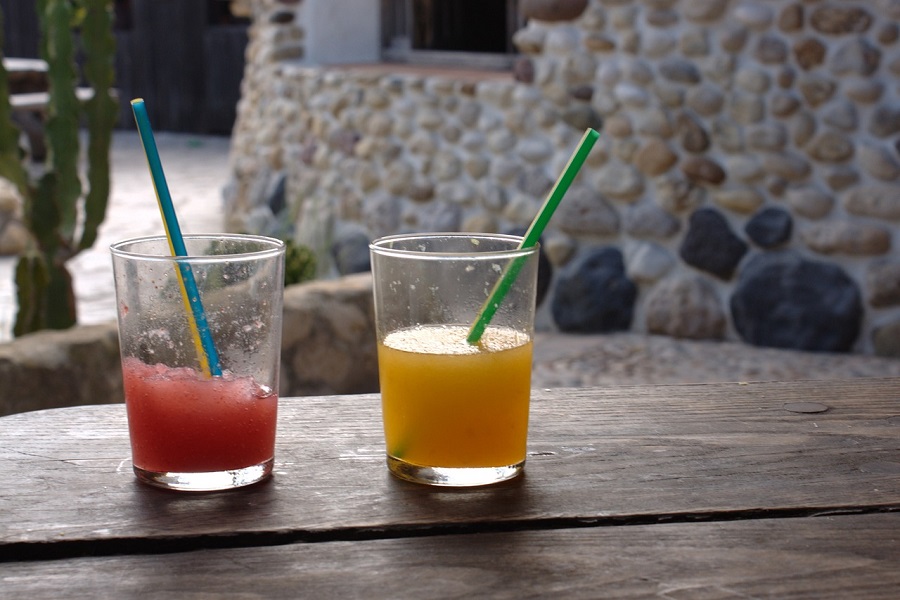 Icy Rum Slush | West Via Midwest
Mojito Slushies | The Little Kitchen
Bahama Mama | 365 Days of Baking and More
Blue Pina Colada | Hearts Content Farmhouse
Red Rooster Frozen Vodka | Umami Girl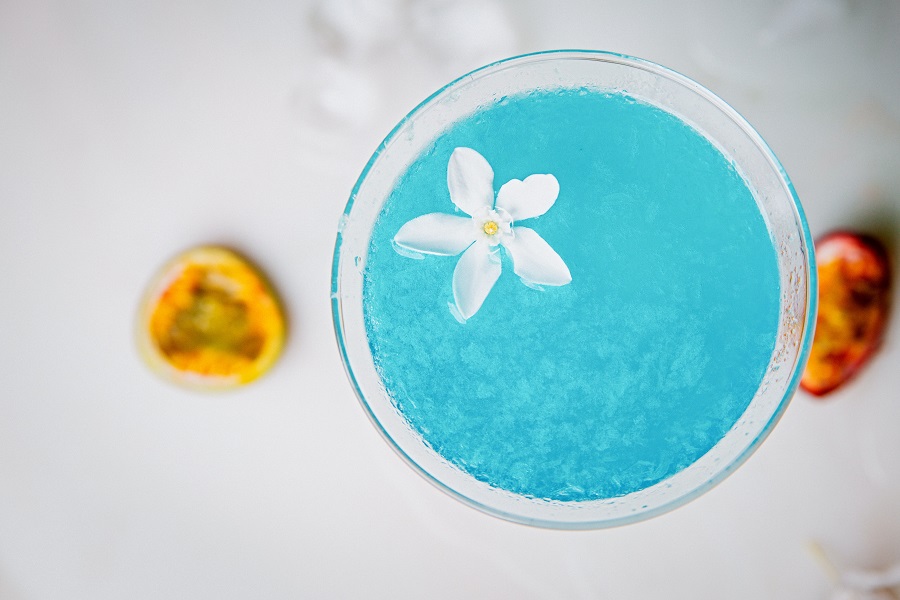 Frozen Cocktails | The Blender
We don't all have a slushie machine on hand. A slushie machine would make mixing these cocktails very simple. There are frozen drink machines out there that range in price from $45 to $1,100.
Not everyone has a budget for an extra kitchen device, but we won't be using an ice chisel to get a slushie. We will need a powerful blender like KitchenAid, Vitamix, or Ninja. Of course, the brand you choose won't really matter; all that matters is that the blender is good quality.
Just remember, the more ice you add, the frothier the slushie will become.
Frozen Raspberry Lemonade with Vodka | Cup of Zest
Pineapple Rum Slush | Amanda's Cookin'
Miami Vice Cocktail | Aleka's Get-Together
Frozen Orange Vodka Creamsicle | Jawns I Cooked
Brandy Slush | Simply Whisked
Type of Ice
The type of ice you use can make a big difference in how long your frozen cocktails take to finish. But another good thing to think about is keeping your blender in tip-top shape. You can absolutely just toss in some ice cubes and spend a little more time to get the cubes completely crushed and frothy.
This may cause small amounts of damage to your blender the more cocktails you make. The better choice is to use crushed ice. Crushed ice is already quite broken down which means your blender won't need to work as hard.
The end result is also better since you won't be over blending crushed ice.
Frozen Old Fashioned | Inspired by Charm
Strawberry and Peach Wine Slushies | A Turtle's Life for Me
Frozen Blue Hawaiian | Shake Drink Repeat
Strawberry Lemonade Moscato Slushie | Miss in the Kitchen
Blueberry Mint Daiquiris | Boulder Locavore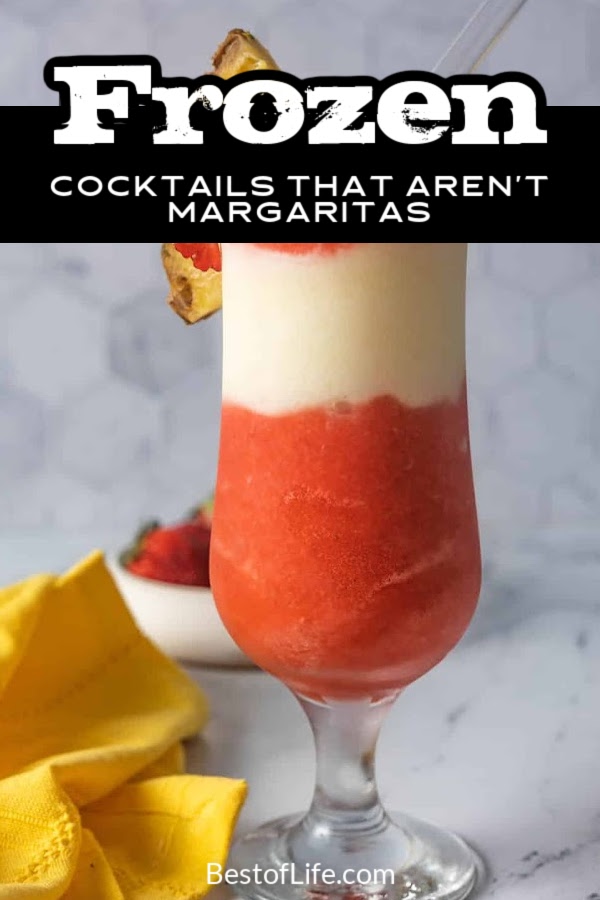 More Cocktail Recipes
Sunrise Strawberry Mimosa Recipe | Brunch just got even tastier with the help of this take on the classic mimosa.
Blue Margaritas Pitcher Recipe | Providing drinks for a crowd is easier with pitcher cocktail recipes.
Banana Creme Rum and Orange Juice Cocktail | A tropical drink is just a few steps away!
How to Make the Perfect Mojito | Mojitos make great drinks that are perfect for summer days by the pool.
Whiskey Drinks for Summer | Whiskey may not be the first drink you reach for during summer, but these recipes will give you a new perspective.