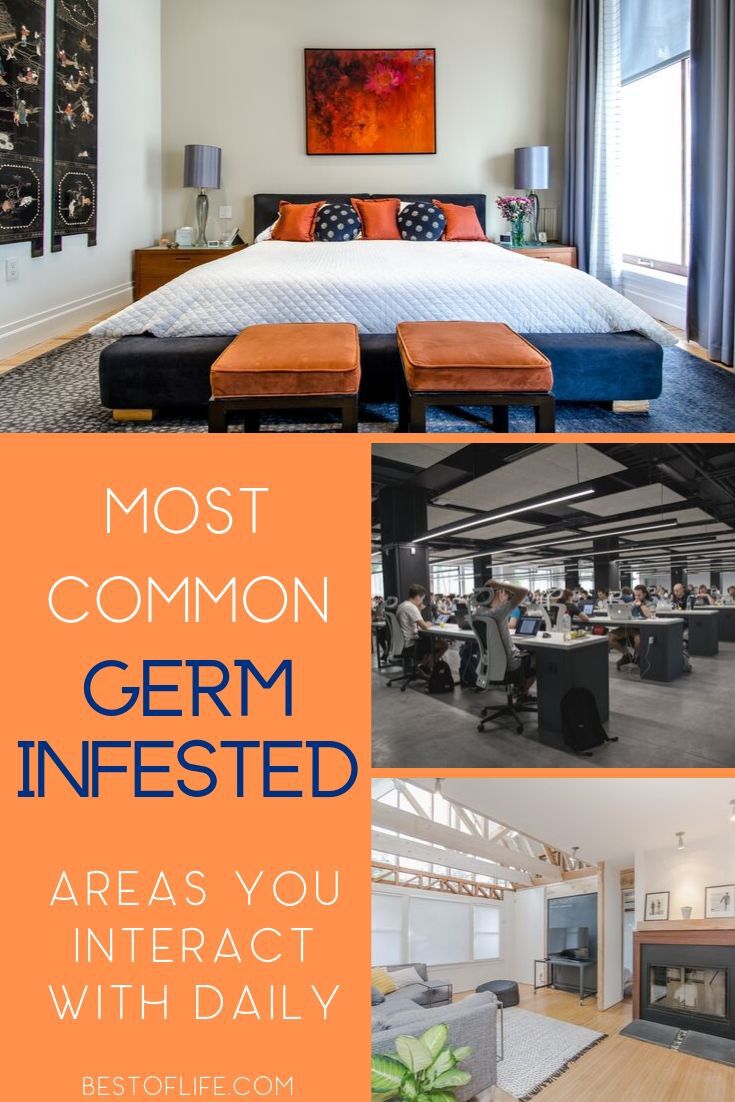 School is back in session, the weather is getting colder, and that means it is cold and flu season. The problem with this time of year is that no one wants to get sick but everyone does. We try hard to make sure we stay healthy for work, school, and to have fun on the weekends. We also try to avoid germs but in order to avoid them, we need to know where the most common germ infested areas are. Once we know where the germs live we can either kill them or avoid them.
Some of the most common germ infested areas in our lives are controllable but some are not. Knowing where they are will help though.
Have you ever heard that the toilet in your bathroom is cleaner than the counter in your kitchen? That may be true depending on how well you clean.
But you should remember that there are germs everywhere. Many of us grab our phones first thing in the morning. Not only are you depositing germs on your phone but you're getting more from your phone.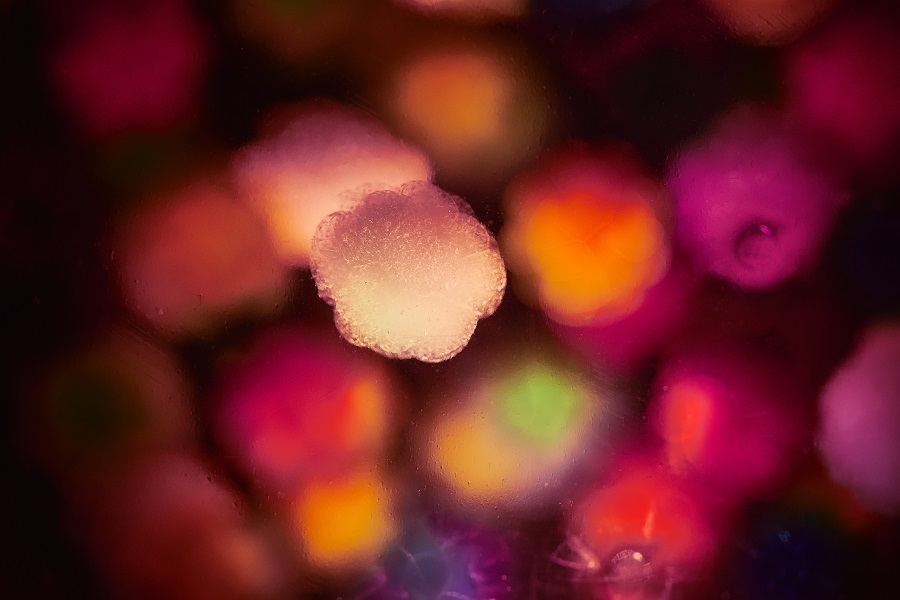 The most common germ infested areas in our lives are pretty obvious but some are not so obvious. Knowing where the germs are could help you to avoid them, kill them, or just shock your friends and family when you tell them.
You will learn that it is impossible to avoid all germs. The likelihood of you getting sick this year is pretty high with anywhere from 5-20% of the US population getting the flu.
But you can lower your odds or get sick fewer times if you have the right information.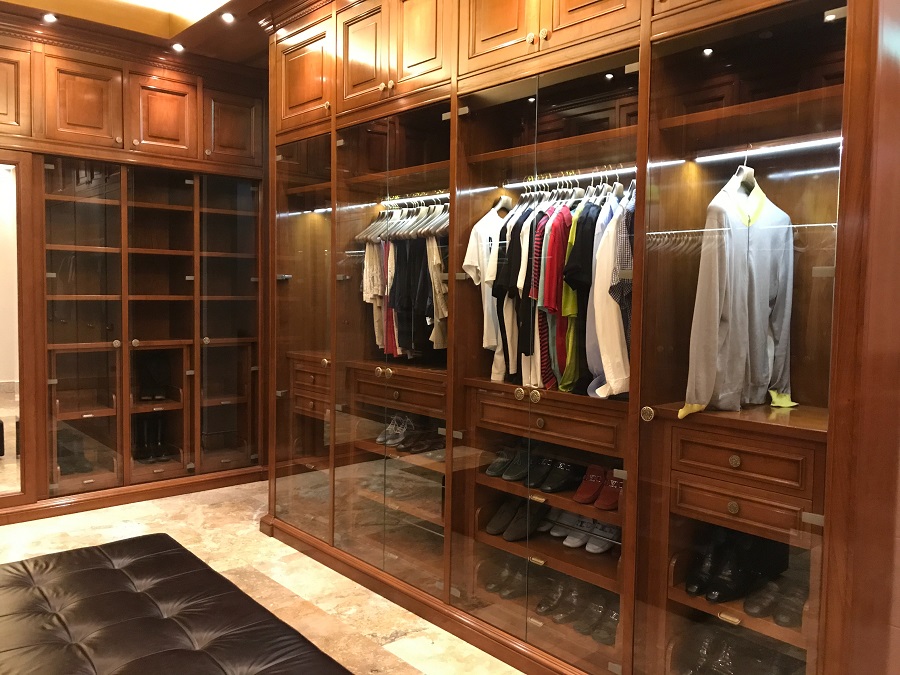 Most Common Germ Infested Areas | At Home
Your Closet
We will start off with a big shock, your clothes. Most people don't wash their clothes in hot water out of fear of shrinking.
That is entirely true, hot water then a hot dryer will shrink some of your clothes. But it would also kill all of the germs. Washing in cold water doesn't.
The only way to fix that would be to heat the clothes with either hot water washing or longer times in the dryer. The dryer should run for at least 30-minutes to kill all of the germs.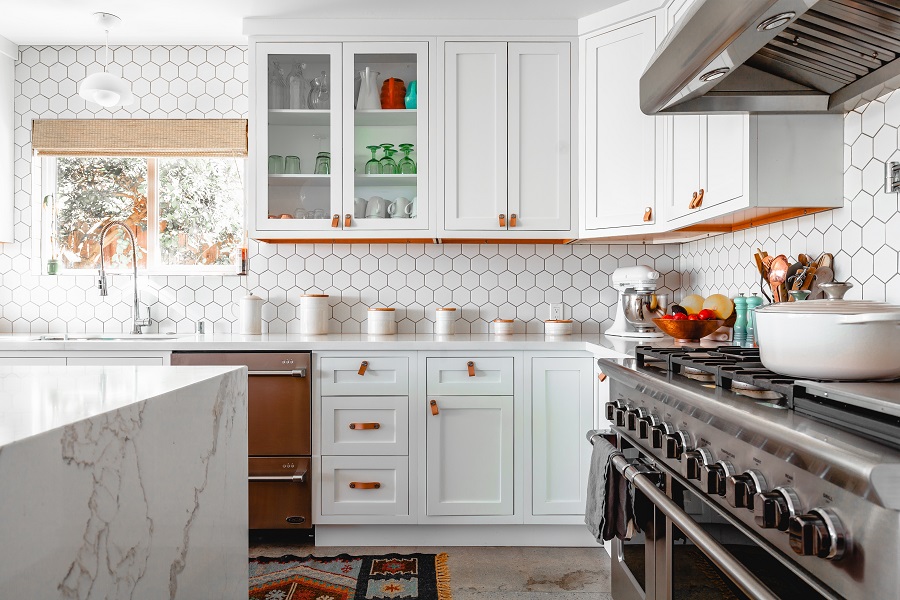 Your Kitchen
Believe it or not, your kitchen harbors more germs than your bathroom. Not only do we add our own germs to the surfaces we touch but the raw foods bring their own germs to the party.
There are three surfaces in your kitchen that currently have more germs than your toilet bowl, the sink, the counters, and your kitchen sponge.
It is important to completely clean these surfaces as often as possible. Simply doing the dishes after a family meal isn't enough. You can use disinfectant wipes on the counters and in the sink once you've finished cleaning up after cooking.
You should never use your sponge to wipe down counters or other surfaces. Instead, you can use paper towels or wipes and you should microwave your sponge after every use for 1-2 minutes.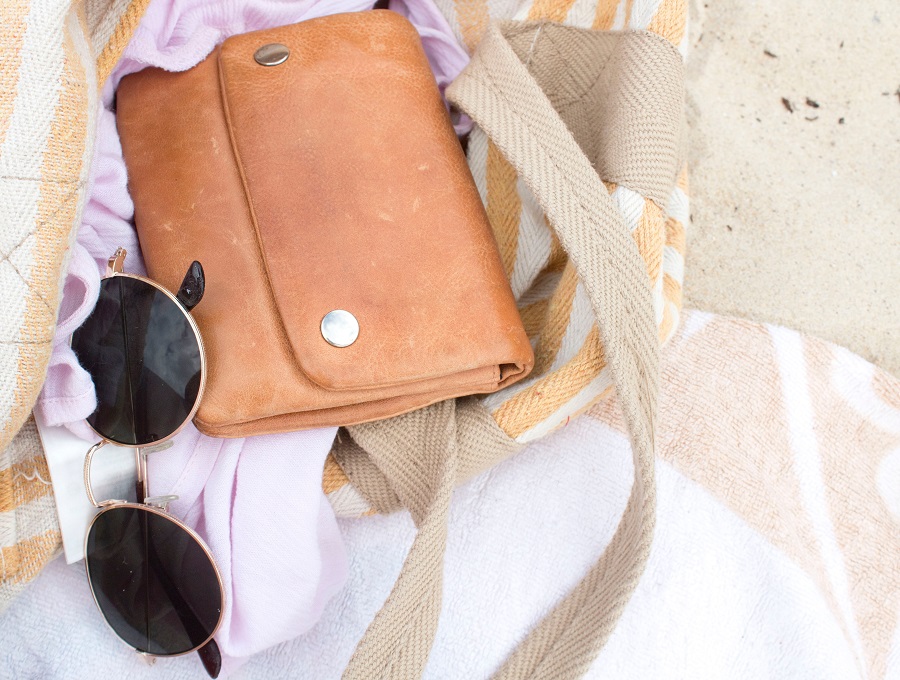 Most Common Germ Infested Areas | On You
Purses
Many people carry purses with them every single day. But studies have shown that there is more fecal matter inside at the bottom of most purses.
This means that women are getting germs on their hands when they reach into their purse after washing their hands. As a result, there was no point to wash your hands in the first place.
To avoid this, first, clean your purse out thoroughly and then never place it on the floor.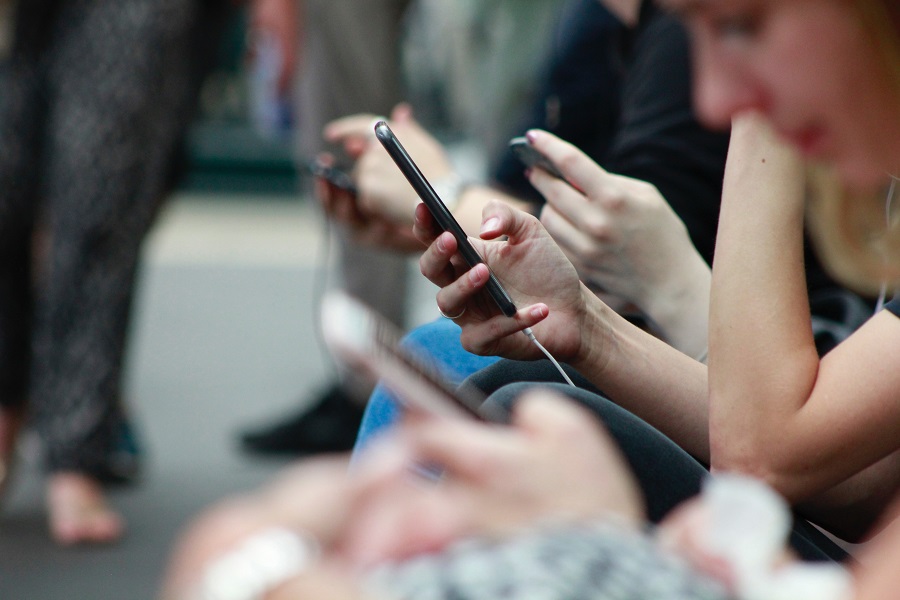 Cell Phones
Things get a little dicey when you take a micro-look at your cell phone. Studies show that there is an average of 100,00 bacteria on our phones.
We carry our phones with us just about everywhere. Some of us even us our phones while we are also using the restroom.
That means we expose our phones to all of the germs, everywhere. It is important that you get antiseptic wipes and use them regularly on your phones.
We are constantly bringing things like our phones and purses into the bathroom with us. It is true that your bathroom is cleaner than your kitchen.
But a public bathroom is a very different story. Purses, wallets, smartphones, and keys should remain in our pockets or on door hangers when we go to the bathroom.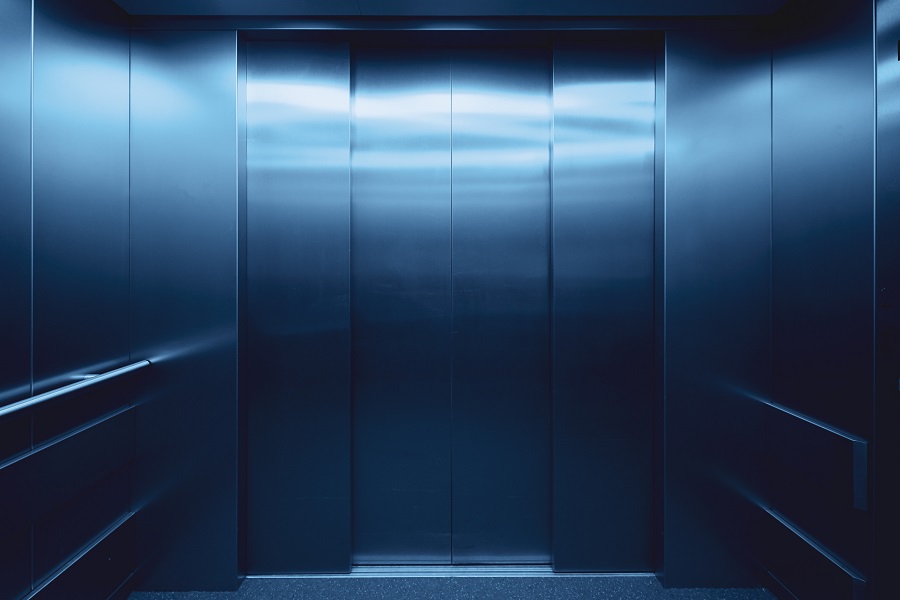 Most Common Germ Infested Areas | At Work
The Elevator
We all have had those awkward elevator rides with a random group of strangers. We get crammed into this tiny space with a bunch of people that we just don't know.
The awkwardness is palpable. But you should keep an eye on those buttons in the elevator, especially the ground floor button. Every person who enters the elevator presses the ground floor button.
It is a hotbed of germs from those strangers. There's no way around it, you will have to touch it.
Just make sure you don't touch your face or anything on your body, even that phone in your pocket. You will also want to wash your hands as soon as you get out of the elevator.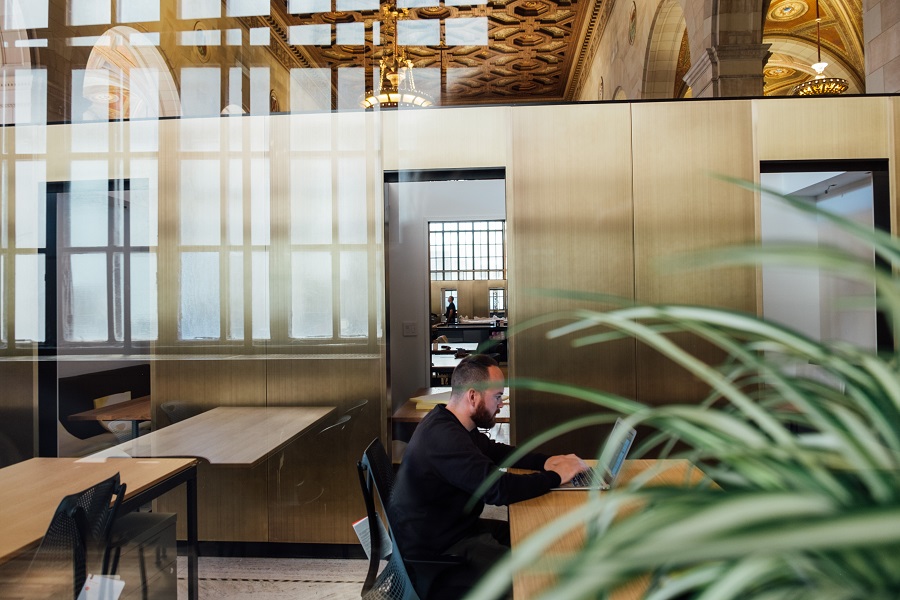 The Breakroom
Does your breakroom have a coffee pot in it? No matter, every surface in every break room is filled with germs. It may not be your job to clean the surfaces in your break room but that doesn't mean that you shouldn't.
You could easily bring some disinfectant wipes with you to work and wipe down surfaces in the break room. Don't skip that coffee pot handle, studies show that might be the worst spot of them all.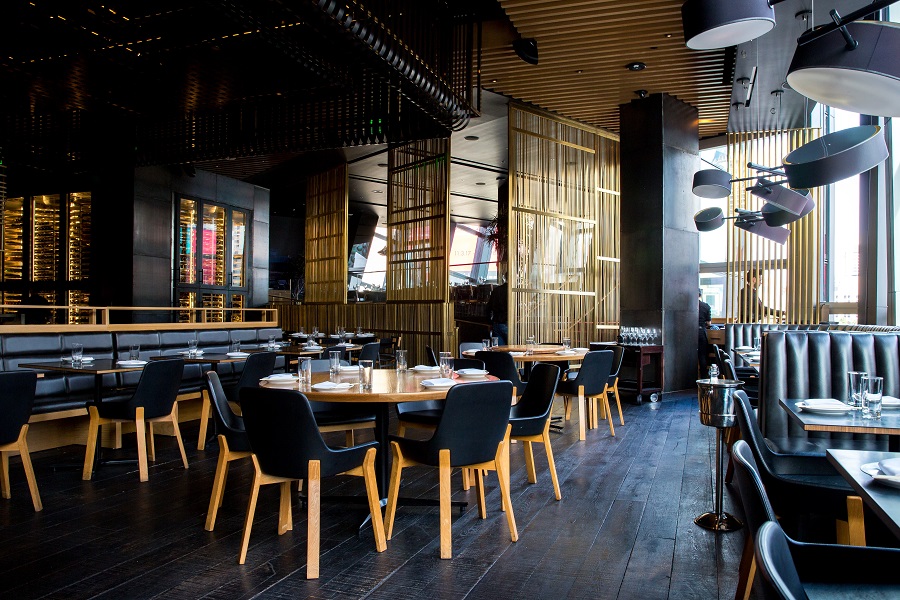 Most Common Germ Infested Areas | On Errands
Restaurants
You may think we are going to point out the bathrooms but you'd be wrong. Instead, we're going a lot closer to your table.
The menus at many restaurants are germ-infested and only cleaned at the end of the day if that. One study found that there was an average of 185,000 bacteria on menus in restaurants.
You can order your food and then excuse yourself to wash your hands. Don't forget to wipe the table down with your own disinfectant wipes before you go to the bathroom.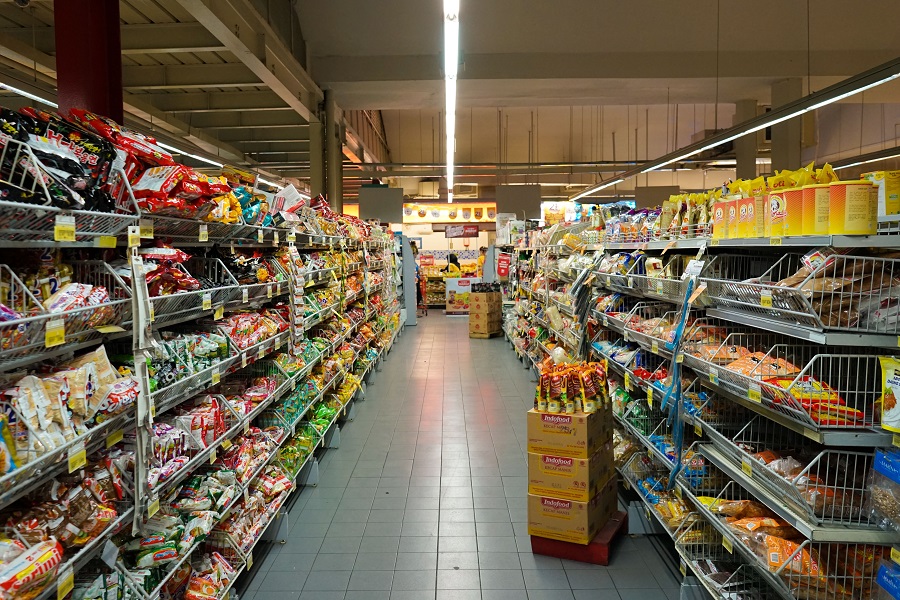 Grocery Stores
One study found that there were E. coli bacteria on half of the shopping cart handles at the grocery store. Shoppers touch the handles babies do too and people are putting raw meat in their carts all the time.
Even your own reusable bags may have E. coli bacteria. Prevent that by washing out your reusable bags after every use.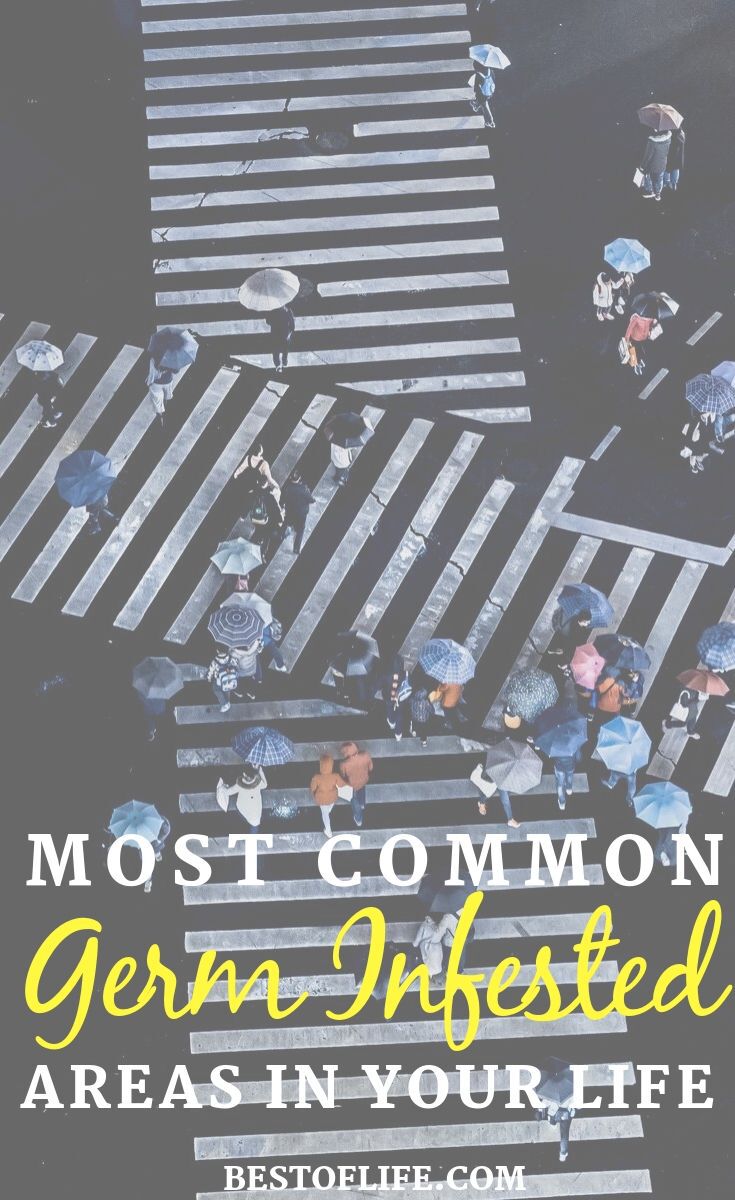 You could use fabric bags and just throw them in the wash, just remember to use hot water. You will also want to sanitize your hands after touching those carts.
More Health Tips
25 Daily Habits to Live Longer
17 Ways to Lose 3 Pounds in 2 Days
How to Apply Sunscreen | Sunscreen Application Tips
How Exercise Helps Stress | 10 Things to Know