This site contains affiliate links. Please read our Policies for information.
Like any form of media, there is an art to social media. Getting likes on Instagram, followers on Twitter, and pins on Pinterest, requires a little more work than just posting or pinning. To excel, you may need a few tips to make the best pins for Pinterest. You need to master things like clarity, color, and of course, beauty. This should all happen before you can expect to see results. Sure, social media is viewed as a millennial thing that promotes a "look at me" society. However, you can't ignore the marketing value that comes with sites like Pinterest.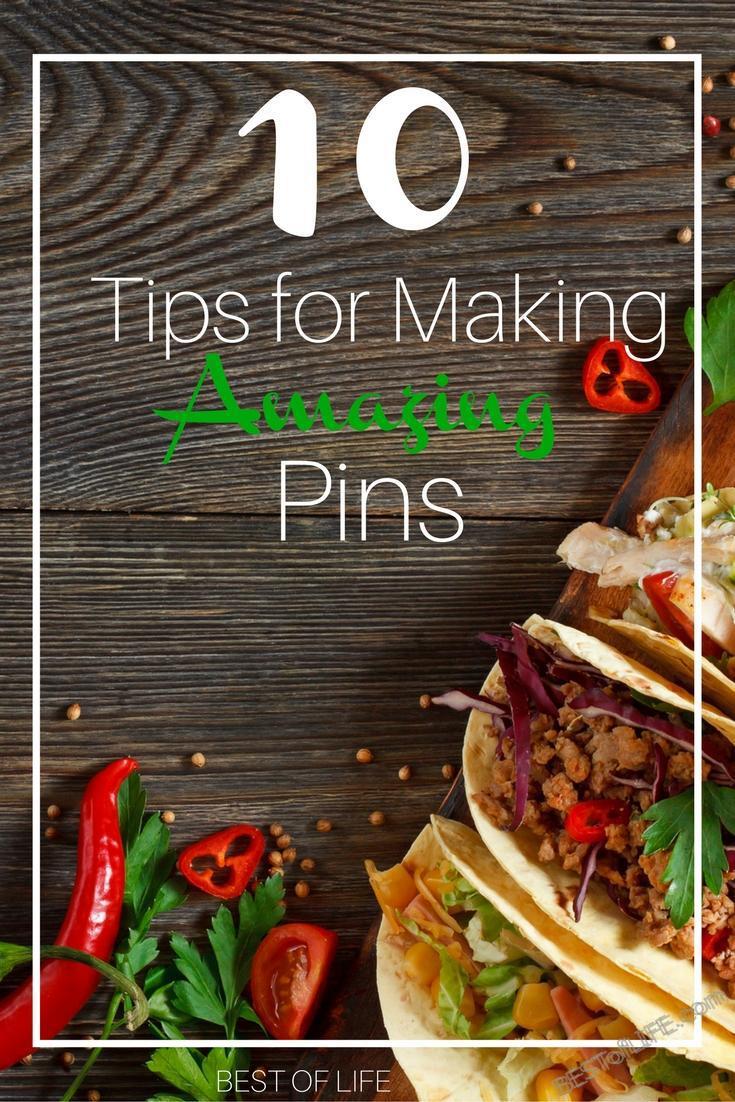 Making the best pins for Pinterest requires a bit of finesse, brain power, and a sprinkle of creativity to get you pins and followers.
There are a lot of software platforms you can use to make the best pins for Pinterest. Lightroom is a good one, photoshop is great too. I also like to stay up to date on what looks good by doing some research. Good old fashioned books on the topic are not hard to find. A trusty photography guide can work wonders, this is a great one! It's a lot easier to take great photos when you are working with the right equipment. Starting out with an excellent camera like the Panasonic Lumix can help your photos look great without much editing. You should also look into some great lighting like these tabletop options.
Text
Yes, Pinterest is about the images, but you need text that sums up what you're pinning. Avoid using black text because it can get lost in the photo. You want people to be able to read what you're sharing. If they can't read it, they may skip it entirely. Instead of black text use white lettering. If you need to, save the photo for later. When you come back, you'll have fresh eyes to look it over.
Font
The font does matter when it comes to marketing of any kind. Think about the ads you see, preferably print or signage. The font will tell you a lot about the business behind it and the same applies to Pinterest. Currently, on our sister site, Best of Life Magazine, we use one "fancy" font and one plain font to show that we're fun and classy at the same time. Side note: we are both.
Pop It
The image you choose to use should be full of pop. Make sure the picture has a lot of bright colors, so it attracts the eyes. Let's face it, some people just scroll through mindlessly until something catches their eye. So make sure to catch their eyes!
Size Matters
Pinterest changes the rules often. Their main concern is usually centered around how big the image can be in someone's stream. Make sure your image fits the size guidelines so that the whole image can be seen without clicking on it first. As I'm typing this, the size is 735 x 1102, but that can change at any moment. Staying current is important.
Frequency Does Too
How frequently you post matters. This is especially important to your loyal followers. On the other hand, post too often, and you could see those followers drop off in masses. Find what works best for you and stick to the schedule.
Declutter
No one likes looking at a mess so keep it clean. If you're making a collage pin, use four images or less. Also, if making a collage, use simple images that don't have too much going on in them. You may have 5 beautiful images that you want to use, but people will probably just pass it up if it's too much.
The Description
If a picture is worth a thousand words then a pin's description is worth 1000 clicks. Use keywords in the description as much as possible. Basically, you want to learn a new language and that language is Google. To speak Google, you need to summarize every sentence in the description into a Google search bar phrase. This cake recipe can be used by anyone and won't have you in the kitchen all day; Google translation, the best easy cake recipe for kids.
Hiding in Plain Sight
Social media is a way for people to share what they want, have personal space, and ignore the BS. That being said, it's important your pin doesn't look like an ad. Yes, your pin is essentially an ad, but you don't want them to know that up front. Make your best pins for Pinterest beautiful and clickable, just don't make an ad.
How Not to Make an Ad
Step two in hiding in plain sight is to make the pin personal. Use words that you would use in everyday life. Also, try taking your own pictures rather than taking from stock images.
Your Boards
Going all in matters when making the best pins for Pinterest, but the last step in making your pin not look like an ad is to put it among other non-ads. Pin other people's pins to your boards, mix it up a bit. Never compromise the brand you're trying to build, but make a few different categories. This will help make you feel like a real person and less like a company looking for a click.
Save