Preparing a fantastic dinner is something we all want to do but rarely have time to make happen. While I enjoy taking my wife out for that fabulous dinner that someone else makes, I'd rather save the money and cook at home. The problem comes when you try to find quick dinner recipes that are on par with that amazing meal you dream about. Luckily, the internet is an amazing thing that makes finding recipes of all kinds…easy. You can't go wrong with some crockpot meals! They are quick, easy, and with just a little prep, your beloved slow cooker will do the work for you.
Saving time on cooking usually means sacrificing taste and flavor, but there are some of the best quick dinner recipes that will give you time and flavor.
Making quick dinner recipes is mostly about being prepared. This is as easy as being organized when it comes to meal time. I do that with shopping lists, organized cookware, all the proper utensils. On some nights I couldn't do without all my disposable plates, cups, and utensils. There are even some nights when making quick dinner recipes is a necessity, on those nights I like to make sure everyone eats a good meal without sacrificing a lot of time!
Loaded Chicken and Potatoes Casserole | Stockpiling Moms
Meatball Sliders | Home Made Interest
Simple Salisbury Steak | Cincyshopper
Teriyaki Chicken Rice Bowls | Crunchy Creamy Sweet
One Dish Queso Chicken Bake | The Pinning Mama
3-Ingredient Brown Sugar Italian Chicken | Plain Chicken
Smoked Sausage & Rice | All Things Mamma
Baked Ravioli | Tasty Kitchen
20-Minute Honey Garlic Shrimp | Sally's Baking Addiction
Bacon Guacamole Grilled Cheese Sandwich | I Think We Could Be Friends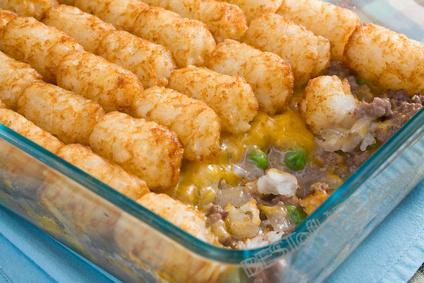 Garlic Butter Chicken, Green Beans & Potatoes | Yummy Healthy Easy
Mexican Beef And Rice | I Wash You Dry
Orange Chicken | The Gunny Sack
One Pan Chicken Dinner | Natasha's Kitchen
One Pot Beef Stroganoff | Hip Foodie Mom
Stromboli | Southern Bite
Chicken Tetrazzini | Lil' Luna
Garlicky Baked Shrimp | Gimme Some Oven
One Pot Lasagna Soup | Carlsbad Cravings
Bacon Chicken Pasta | Good Cook
Quick and easy meals come in many different shapes and sizes, and some can even be made in the wilderness. However, if you don't even have time for a quick meal, maybe a grab and go snack is what you need. Either way, it's important that you enjoy what you eat, so, bon appetite!