Princess Leia Quotes to Remember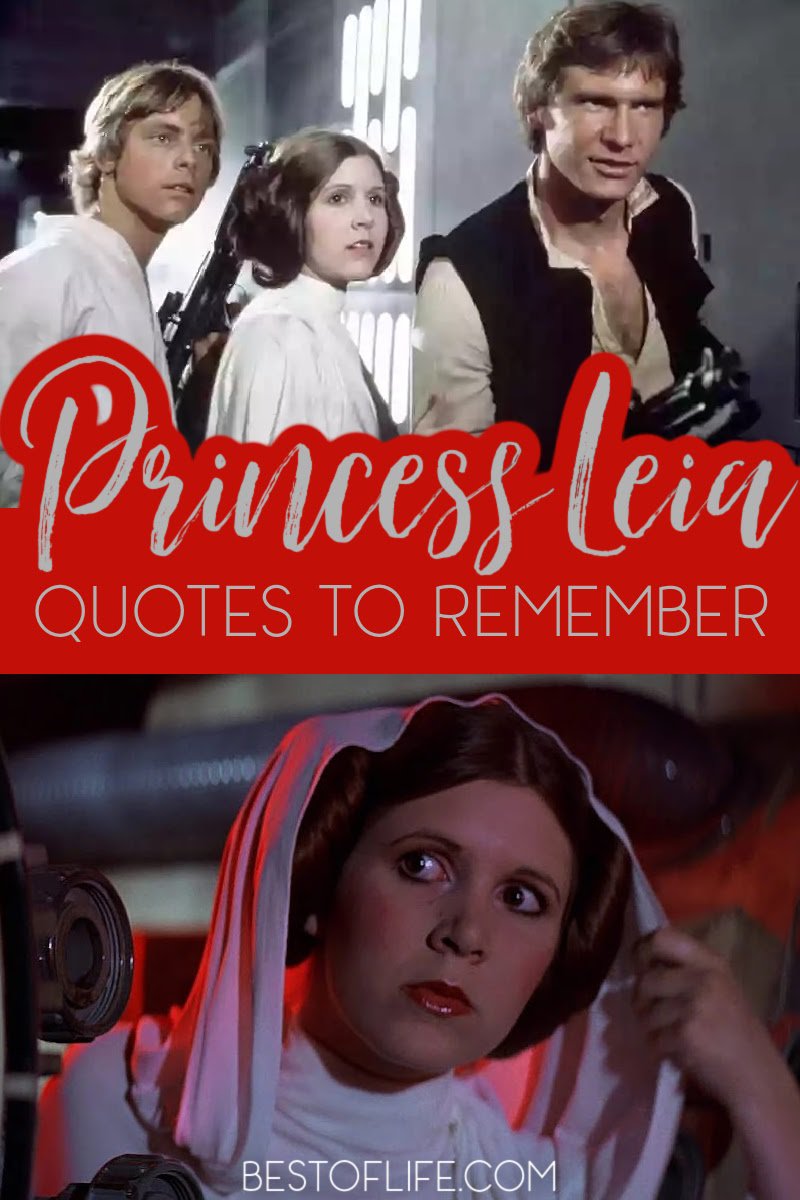 Some would say that Carrie Fisher as Princess Leia was a turning point for more than just the genre but for women. Unfortunately, that source of inspiration has left us. Now it's time we look back at some of the best Princess Leia quotes to remember that source of inspiration to us all.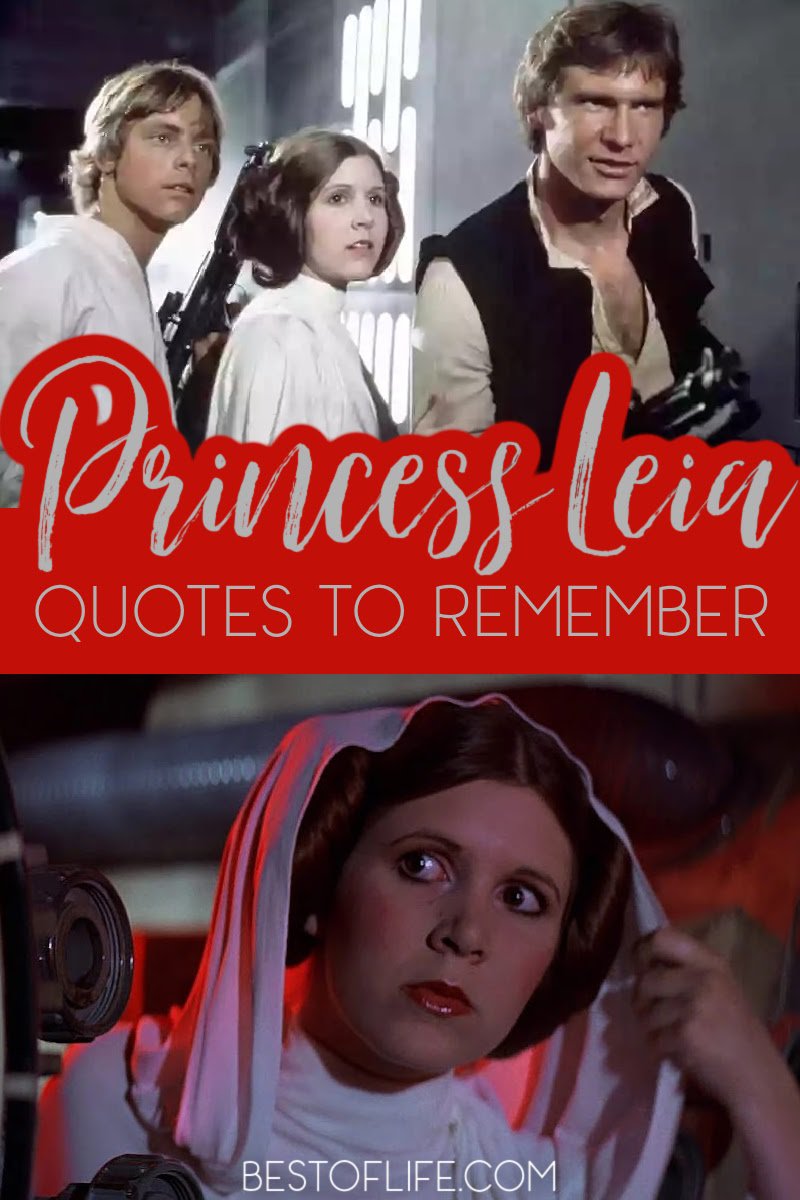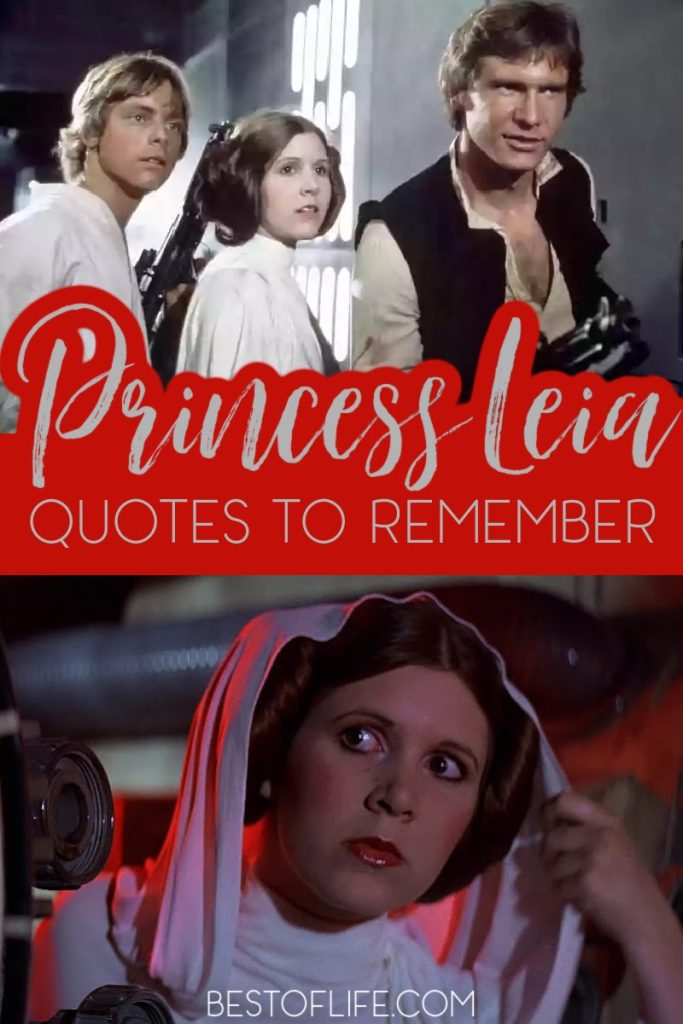 Princess Leia had a profound role to play in the future of women in movies. As she took an active lead up against the talents of Harrison Ford and the like, she shined through. There are so many Star Wars memorabilia out there.
Did you know you can buy all of the Star Wars movies on Amazon? These Star Wars peel-and-stick wall decals are epic for any true fans out there! There is this excellent measuring cup set for the Star Wars fan out there who likes to bake!
Buy a Jedi bathrobe for your favorite Star Wars fan! If you like to build, this play-and-build kit is for you. Carrie Fisher, Princess Leia has passed away, and while we have lost a talented soul, we at least have Princess Leia quotes to remember.
There has been a weakening in the Force with the passing of Carrie Fisher. Carrie Fisher has done so much with her life. Carrie was an author, actress, philanthropist, and an inspiring human being to many people.
While she has done so much with her life, it was through Star Wars that I became aware of her. Even in the beginning, Carrie taught girls and women that they could be just as strong as men.
Carrie has left us; a flame has gone out, and the world has lost a great source of talent. However, we will always have some of the best Princess Leia quotes to remember. Hopefully, that will be enough for us.
Help me, Obi-Wan Kenobi. You're my only hope.
The most memorable and iconic line from Princess Leia asks one man for help. While this man would not be around for very long, Obi-Wan is an integral part of the franchise. Just Like that hologram.
Aren't you a little short for a Stormtrooper?
Stormtroopers have a notoriously hard time in their costumes. However, when Luke Skywalker comes in to save Princess Leia dressed as a Stormtrooper, she only thinks of his height.
This is some rescue! You came in here, and you didn't have a plan for getting out?
Most people would be very grateful for being rescued. Princess Leia has a different way of showing her gratitude.
Will somebody get this big walking carpet out of my way?
Chewbacca is definitely more than a carpet, but maybe this is a very advanced foreshadowing to one of the last scenes in Force Awakens. True fans will know what I'm talking about here.
You came in that thing? You're braver than I thought.
Another great line that was referenced in Force Awakens. If you aren't as savvy with the Galaxy, "that thing" is the Millennium Falcon.
The more you tighten your grip, Tarkin, the more star systems will slip through your fingers.
This is one of those quotes that you can apply to your life, even if you aren't in a galaxy far far away.
Why, you stuck up, half-witted, scruffy-looking Nerf herder.
No one can throw out an insult like the princess herself.
I'd just as soon kiss a Wookie.
Here we go again with those insults, this time taking out two people with one line; Han and Chewy.
He's my brother.
A line that rocked the galaxy was when Leia announced that Luke was her brother. Totally makes the kiss between the two a bit more awkward.
I love you.
I know.
More Quotes
Best Quotes From Game of Thrones. | Game of Thrones may not be as big as Star Wars, but it's up there. We just can't talk about the last season.
Coffee Quotes to Start Your Day. | Coffee is a great way to start the day. You can also enjoy some quotes to inspire the pour.
10 Success Quotes for Women. |Carrie Fisher was so much to so many calling her a success would not be enough.
Funny Smartass Quotes About Work. | Carrie was also a smartass, a very funny, very loved smartass.
Quotes About Surrounding Yourself with Happiness. | You can live your life surrounded by happiness and sprinkle in some Carrie Fisher along the way.